BIOGRAPHY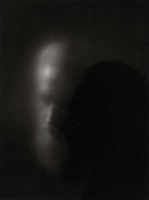 Edmund Teske believed in the transformative potential of photography. He was interested in more than the inherent characteristic of the medium to record a specific moment in time. For Teske photography was a way to explore the soul of his subjects and creating the negative was only the beginning. His composites of multiple negatives and his use of solarization, as well as his exquisite gelatin silver prints, express the complexity and depth of his personal vision.

His composites often layered images from different periods and places and sometimes outside sources. As the assemblage artist George Herms suggested, Teske's composites and solarizations are like Jazz variations on a theme. Though they often contain allegory and symbolism, they are not nostalgic. Rather, they exist as expressions of his various beliefs. Teske believed in the coexistence of both the masculine and the feminine within every individual. Furthermore, he believed in the connectedness of all life and that time is both fluid and cyclical.
Edmund Teske was born in Chicago in 1911. In the 1930s he gained experience in the theater and portraiture photography and became friends with Nathan Lerner, who introduced Teske to Laszlo Moholy-Nagy. During the depression he photographed for Frank Lloyd Wright, Paul Strand (for his film, Native Land), and the U.S. Army Corps of Engineers and he printed for Berenice Abbott.

In 1943 Teske traveled to Arizona to photograph at Wright's Taliesin West and continued on to Los Angeles where he became friends with Man Ray and Anaïs Nin. Teske was introduced to Vedantic thought, a Hindu philosophy, and its mythology and symbolism greatly influenced Teske's later work. In 1950 he moved to Topanga Canyon where he became a part of an enclave of artists, black-listed actors and intellectuals, including Wallace Berman, Will Geer, George Herms, Walter Hopps and Dean Stockwell. It was during this time within a nurturing environment of like-minded, creative, free-thinking individuals that Teske's singular style evolved.

Teske's work was included in Museum of Modern Art's 1960 The Sense of Abstraction show and it was Edward Steichen who named Teske's innovative process "duotone solarization." While teaching at UCLA in the 1960s, Teske was a colleague of Robert Heineken and became a mentor to many local photographers.