BIOGRAPHY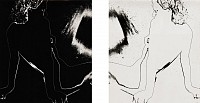 Ferenc Berko (1916-2000) is part of long tradition of Hungarian émigré photographers, which includes Brassaï, Robert Capa, André Kertész, László Moholy-Nagy and Martin Munkásci. Influenced by some of the great Bauhaus teachers at a young age, Berko explored numerous genres and various styles. Within every period of his career, his work was concurrent with the artistic developments of the time.

In 1933, with the growth of anti-Semitism in Germany, Berko was sent to England to finish his studies in philosophy. While in London, he became active in the photography and film circles and met Emil Otto Hoppé, who became a mentor. Following school, Berko moved to Paris where he continued to collaborate with his wife Mirte on a series of nude photographs. In 1937 he made a trip back to Hungary and photographed Jews in Budapest. In 1938, with Nazi influence on the rise, Berko moved to India to become a filmmaker. Beyond learning cinematography, he experimented with the photographic process, creating photograms as well as prints with multiple negatives, while at the same time continuing his passion for investigating the world through an eye for beauty and form.

In 1947 László Moholy-Nagy invited Berko to teach photography and film at the New Bauhaus, the Institute of Design in Chicago. Berko's work in Chicago focused on the abstraction of the urban landscape, continuing his interest in modernism, while developing work that had a direct dialogue with the current developments of Abstract Expressionism.