BIOGRAPHY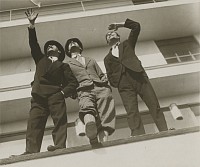 1898-1991
Irene (Angela) Bayer (néeHecht) was born in Chicago in 1898; she grew up in Hungary. She started her studies at the Academy of Fine Arts in Berlin at the age of 22. In 1923, she visited the first large Bauhaus exhibition in Weimar, at which the Bauhaus presented its innovative work in the arts and crafts in the Bauhaus building and in the Haus Am Horn, which was specially built for the exhibition. It was at this exhibition that she first met the Bauhaus member Herbert Bayer. She attended the Sorbonne and the École de Beaux-Arts in Paris as an auditor up to 1924. The following year, she took part in the preliminary course at the Bauhaus in Weimar, without being fully enrolled, and attended photography courses at the Academy of Graphic Arts and Book Publishing in Leipzig. The same year (1925), she married Herbert Bayer, a student and later young master at the Bauhaus, and moved to the Bauhaus in Dessau with him in 1926.
With her training in photography, she supported Herbert Bayer in his photographic and technical work, but she also took her own photographs independently. Her pictures of Bauhaus members and their everyday life at the revolutionary art college scintillate with the spirit of a dawning new era and joy in life prevailing there – a spirit otherwise only found in T. Lux Feininger's photos. Irene and Herbert Bayer separated in 1928; their only child, Julia Alexandra, was born in 1929.
The same year, Irene Bayer presented her photographic works, mainly concerned with people living at the Bauhaus, at the 'Film and Photo' Werkbund exhibition in Stuttgart. In 1938, like many of former Bauhaus members, she returned to the USA. She abandoned professional photography during this period and worked as a translator. Bayer only divorced her husband, Herbert Bayer, in 1945 – 17 years after they had separated. She returned to live in Germany again for two years in 1945, working in Munich for the American military administration. She then settled in Santa Monica in California, where she died 28 years after her daughter's death (in 1991). Irene Bayer is buried alongside her daughter and near Herbert Bayer and his second wife, Joella, in Aspen Grove Cemetery in Aspen, Colorado.
—from Bauhaus Kooperation