BIOGRAPHY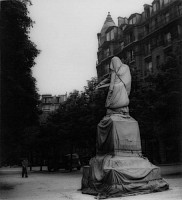 Josef Breitenbach created a unique visual vocabulary by incorporating both traditional and experimental processes within a variety of genres throughout his career. Raised with a profound respect for the history of art and culture, he worked with a conscious understanding and appreciation for many different styles of artistic expression, including Modernism, Surrealism and even Pictorialism. Breitenbach explored form and abstraction as well as the sensual and psychological side of his subjects. His photographs exist as aesthetic objects that are also artifacts of a highly innovative period of our history.

Breitenbach was most interested in using photography and color for their transformative and expressive potential. He was not bound by the traditional notions of what a photograph should be. He employed a variety of techniques, sometimes combining them; they included: camera-less photography, montage, toning, bleaching and hand-coloring.

Josef Breitenbach was born in Munich to a wine merchant family in 1896. He studied philosophy and art history at Ludwig-Maximilian University and was a left wing political activist early in his career. Breitenbach was self-taught and made his first pictures in 1927 while traveling for the wine business. He opened his first photography studio in 1930 in Munich where he ran a successful business photographing prominent actors, cabaret performers, writers and political figures. When Hitler became Chancellor in 1933, Breitenbach fled to Paris, where he came into contact with the Surrealist movement. Though he did not identify himself as a Surrealist, Breitenbach's work was included in important Surrealist photography exhibitions alongside photographs by Man Ray, Brassaï, Henri Cartier-Bresson, Eli Lotar and Roger Parry.

Breitenbach was interned in 1939, escaped via Marseille in 1941, and arrived in New York City in 1942. He came to the attention of Walker Evans, who published his work in Fortune. In the summer of 1944, at the invitation of Josef Albers, Breitenbach taught photography at Black Mountain College. In 1946 he became a United States citizen and joined the faculty at Cooper Union and later The New School. Breitenbach continued to create distinctive and innovative work, including a striking group of camera-less photographs. These works hover in the liminal space between Surrealism and Abstract Expressionism.