PRESS RELEASE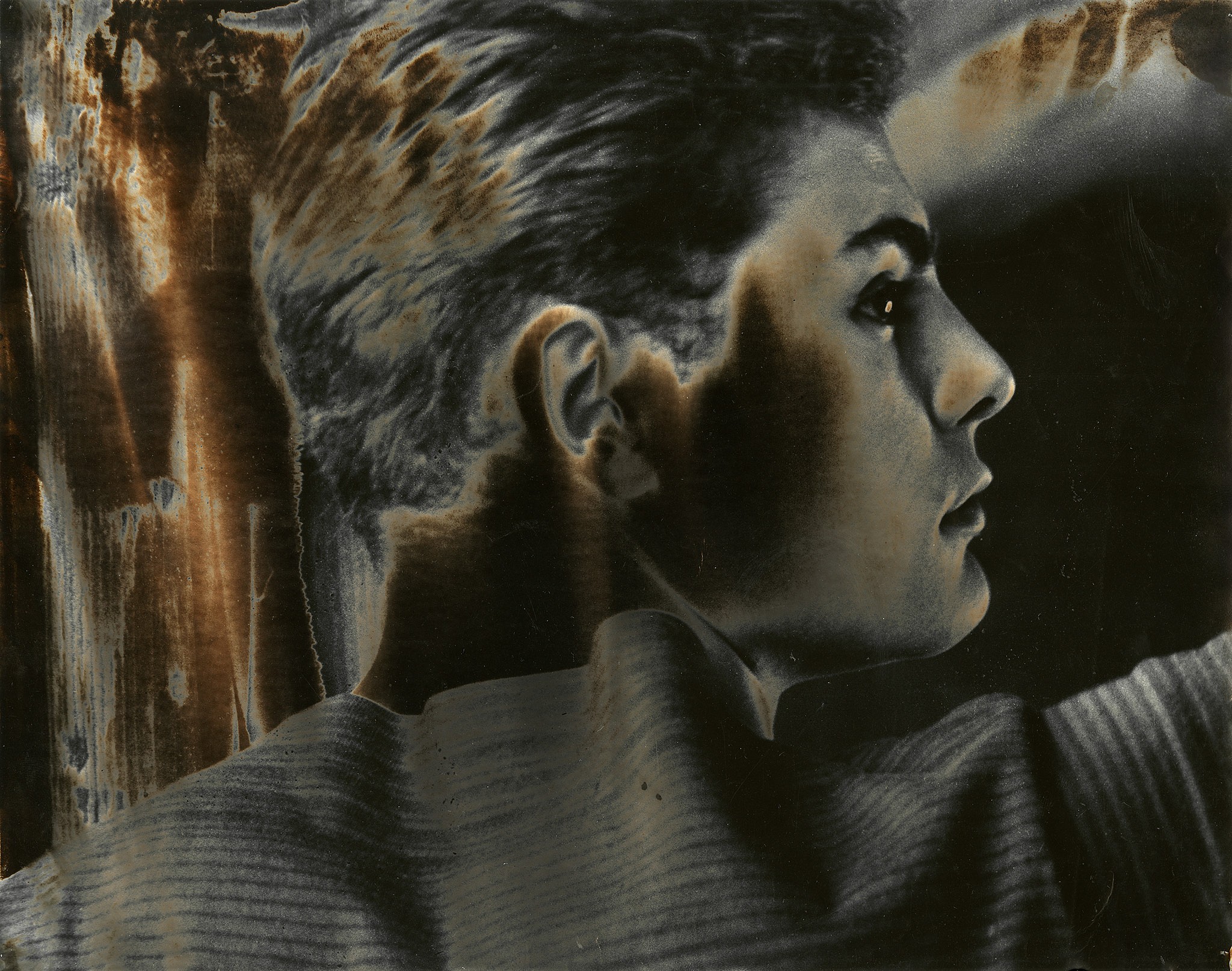 Edmund Teske
Nov 19, 2014 – Jan 24, 2015
Gitterman Gallery is proud to exhibit the work of Edmund Teske (1911–1996) opening Wednesday, November 19th, from 6 to 8 p.m. and running through Saturday, January 24th. This exhibition will include many photographs never before exhibited.

Edmund Teske believed in the transformative potential of photography. He was interested in more than the inherent characteristic of the medium to record a specific moment in time. For Teske photography was a way to explore the soul of his subjects and creating the negative was only the beginning. His composites of multiple negatives and his use of solarization, as well as his exquisite gelatin silver prints, express the complexity and depth of his personal vision.

His composites often layered images from different periods and places and sometimes outside sources. As the assemblage artist George Herms suggested, Teske's composites and solarizations are like Jazz variations on a theme. Though they often contain allegory and symbolism, they are not nostalgic. Rather, they exist as expressions of his various beliefs. Teske believed in the coexistence of both the masculine and the feminine within every individual. Furthermore, he believed in the connectedness of all life and that time is both fluid and cyclical.

Edmund Teske was born in Chicago in 1911. He had an early affinity for the arts and studied music and photography as a child. After high school Teske remained intellectually curious, reading Ralph Waldo Emerson, Carl Jung, and Walt Whitman. In the 1930s he gained experience in the theater and portraiture photography, becoming friends with musicians, actors and other photographers, including Nathan Lerner, who introduced Teske to Laszlo Moholy-Nagy. One of the most important connections he made was with Frank Lloyd Wright, who hired him from time to time to photograph his different projects. During the depression he made a living doing various jobs: teaching in the Illinois Federal Arts Project, shooting film for Paul Strand's Native Land, printing for Berenice Abbott, and in 1942 working as a photographer for the U.S. Army Corps of Engineers at the Rock Island Arsenal, Illinois.

In 1943 Teske traveled to Arizona to photograph at Wright's Taliesin West and continued on to Los Angeles, allured by the promise of possibilities projected by Hollywood. By happenstance, he made his home in Studio Residence B at the Wright-designed Hollyhock House. In Los Angeles Teske became friends with Man Ray, Anaïs Nin, socialites, actors, filmmakers and architects. In addition to making portraits of actors and productions, he had some minor acting roles, designed theatrical lighting and took architectural photographs. Through friends Teske was introduced to Vedantic thought, a Hindu philosophy; its mythology and symbolism greatly influenced Teske's later work. In 1950 he moved to Topanga Canyon where he became a part of an enclave of artists, black-listed actors and intellectuals, including Wallace Berman, Will Geer, George Herms, Walter Hopps and Dean Stockwell. It was during this time within a nurturing environment of like-minded, creative, free-thinking individuals that Teske's singular style evolved.

Teske's work was included in Museum of Modern Art's 1960 The Sense of Abstraction show and it was Edward Steichen who named Teske's innovative process "duotone solarization." While teaching at UCLA in the 1960s, Teske was a colleague of Robert Heineken and became a mentor to many local photographers. Though his work has been widely exhibited and was featured in publications during his lifetime, it was Julian Cox's 2004 book and exhibition, Spirit into Matter: The Photographs of Edmund Teske, at the J. Paul Getty Museum of Art that has contextualized his place in the history of art. Teske's work is included in numerous museum collections around the world.