BIOGRAPHY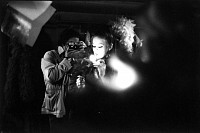 December 2, 1940–May 23, 2023
I'm saddened by the death of my friend Roswell Angier. My heart still aches and I'm not sure I have the words to do him Justice.

I was introduced to Roswell when my friend Alexis Fabry, a great dealer and publisher in Paris, wanted help getting prints of images from Roswell's book "A Kind of Life.": Conversations in the Combat Zone (Addison House, 1976). It was work made of Boston's "adult entertainment" community in the area around Washington Street that became known as the Combat Zone. The images Angier made with his Leica captured more than the mere fantasies of customers; his interest was in the complexity of the people of that community. He became acquainted with many of the strippers and showgirls who allowed him to photograph them. Angier's pictures suggest that "…there is a lot which they never reveal on stage, or in their breezy conversations in the dark shadows of the clubs; qualities of grace, wit, resilience, and singleness of heart". His eye was compassionate and the book includes text from conversations he had with his subjects, giving voice to those he photographed. The name, Combat Zone, came from the 1950s when Boston was a major Navy port and Shore Patrolmen prowled the rock-and-roll bars, busting the heads of sailors. By the 1970s, when Angier spent two and half years (1973-1975) photographing the area, the sailor and patrolmen were gone, and the rock-and-roll bars had been replaced by strip clubs.
From 1978-1982, Angier continued his social documentary work, exploring the Native American communities of New Mexico and Arizona. Having driven through the area numerous times, and influenced by Robert Frank's image of an Indian bar on Highway 66 in Gallup, N.M., Angier began photographing the towns surrounding the Navajo reservation. Angier's images depict people trying to persevere in the midst of a community gripped by increasing marginalization and debilitating alcoholism. Roswell and his wife, artist, Susan Hawley, visited the area numerous times since then and produced a book of his photographs and her watercolors that was just published (June 6, 2023) by MIT Press with an introduction by the filmmaker Ramona Emerson.
Roswell was on the faculty at the School of the Museum of Fine Arts in Boston and the head of the photography program at Tufts University for many years. In 2007, Angier wrote a book entitled Train Your Gaze (AVA Books), which examined portrait photography from technical, theoretical and historical perspectives. He had been writing and lecturing on the subject for a long time but the book came about after I introduced Roswell to my uncle, Brian Morris, whose publishing company AVA Books, focused on books on the creative process in the applied visual arts and published in many languages.

I remember during one of my early meetings with Roswell we came across some images he had made in the late 1980s at CBGB and The Rat. We started discussing music and learned of our shared passion for Sonic Youth. I knew then our relationship would be a special one. Our conversations over the years always felt cut short. We seemed to always have something else we could discuss. I wished I had spent more time with him and miss him a great deal.
—Tom Gitterman